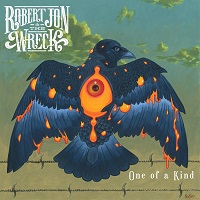 Robert Jon & The Wreck, a group known for their Southern roots rock sound, has released "Who Can You Love". The captivating Americana-infused single is featured on their new EP One Of A Kind. The EP will be available on March 10th via Journeyman Records, an independent label founded by Joe Bonamassa.
One of a Kind was recorded at Hensen Studios in Los Angeles. The iconic Tapestry by Carole King and Blue by Joni Mitchell were both recorded in the legendary facility. The band worked with multi-Grammy Award-winning producer Don Was who's known for his work with The Stones, Bonnie Raitt, and many others.
In The Studio With Don Was
When it came to working with Was, frontman Robert Jon Burrison had this to say about the experience.
Don is a mysterious guy. He's so much about the vibe of the song, rather than the details, and he loves making stuff that sounds raw. He would tell awesome stories about the Dead and the Stones, and there was just so much gravity in his words because he's been in those legendary rooms. It's hard not to be intimidated but he made us feel right at home.

-Robert Jon Burrison
"Who Can You Love" is a reflective track by The Wreck about questioning what you want in a partner. It has the Americana sound, catchy melodies, and soul-stirring fretwork of a timeless Southern Rock ballad. It follows the release of the band's previous track "Pain No More," which was produced by eight-time Grammy Award winner Dave Cobb.
The band will be releasing a series of singles over the next year, and their partnership with Journeyman Records allows them to work with top producers. Their new collaboration will help them cut through the industry chaos and ensure that their music is accessible to fans.
Getting To Know Robert Jon & The Wreck
Robert Jon & The Wreck is a southern rock band from Southern California. The band was formed in 2011 and consists of Robert Jon Burrison on lead vocals and guitar, Andrew Espantman on drums and background vocals, Henry James Schneekluth on lead guitar and background vocals, and Warren Murrel on bass. They are known for their soaring guitar leads, rich vocal harmonies, and memorable tunes.
For more information visit the Robert Jon & The Wreck website or follow along on Instagram and Twitter.
Are you enjoying MendoWerks Magazine? Receive updates each week directly in your inbox. Sign up for the newsletter here.
About Author