After the abbreviated version went viral on Tik Tok, alt-rockers From Ashes To New have released the fully produced hard rock infused "All I Want For Christmas Is You". The Mariah Carey classic was originally released in 1994 and has become a holiday standard.
After leaking a teaser for the cover song, From Ashes To New saw more than 900,000 views & 80,000 likes in just a few hours. The high-octane version is sure to inject some holiday spirit into hard rock music fans' holiday season.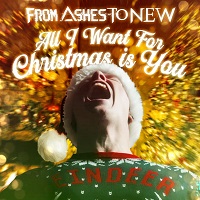 Frontman Matt Brandyberry gives some insight into the band's choices when it came to other song options. He also offers some insight into what we can expect in the new year.
We always thought it would be sick to cover a Christmas song, but never did. We had some extra studio time and thought this could be the chance. There were so many obvious choices for our style ('The Grinch,' 'Nightmare Before Christmas,' 'Carol of the Bells,' etc.) but we thought it would be so cool to put a dark spin on a light-hearted Christmas classic. It's began going viral across TikTok and we can't wait until the whole world discovers it! If you love this, wait until you hear the original material we'll be releasing in '23!

-Matt Brandyberry
The Lancaster, PA-based From Ashes To New has come a long way but hasn't forgotten its small-town roots. They'll be releasing a new studio album in 2023 via Better Noise Music and will be looking to build on the momentum from this year.
The band worked with long-time collaborators and producers Grant McFarland and Carson Slovak on the new material. You can check out a preview in the form of "Heartache" here.
From Ashes To New is wrapping up tour dates for 2022 and more information can be found on their website. For additional updates follow along on Instagram and Twitter.
Are you enjoying MendoWerks Magazine? Receive updates each week directly in your inbox. Sign up for the newsletter here.
About Author