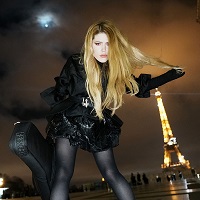 Franco-German pop artist SUN has created a unique vibe that is all her own. Her brand of 'brutal pop' is on display in her new song and video, "John & I (Money)". SUN's blending of pop music with hard rock and metal has garnered critical acclaim and mass appeal.
The talented singer, songwriter, guitarist, and actress is telling a story on the new track and she had this to say about the material.
"John & I (Money)" is a cynical and sassy rock song about the twisted relationship of a rich couple (the woman's point of view). After a poppy verse with a sassy riff, cute melody and cynical lyrics the chorus comes in like a hardcore tornado with brutal honesty and aggressive screams like the meltdown of a rich karen! When I wrote the song I imagined a rich housewife loosing it in her mansion, there is no love bewteen her and John, it's all pretending and her teenage daughter Amberleen already hates her guts and can't wait to get out of there.

-SUN
"John & I (Money)" was recorded in France at Studio Blackbox and produced by SUN and manager Bassem Ajaltouni. The material has been released on Dark Spark Music.
SUN is wrapping up a busy year by finishing up her Asia tour and playing a few festival dates in Europe. Keep your eyes peeled for upcoming tours in Germany, Denmark, France, and Brazil. Fans in the US and UK will be happy to know that dates are in the works.
You can connect with SUN on her YouTube channel or by following along on Facebook and Instagram. Thanks for reading! Let us know your thoughts on the new material in the comments section below.
Are you enjoying MendoWerks Magazine? Receive updates each week directly in your inbox. Sign up for the newsletter here.
About Author