Southern rock-influenced country rockers Outlaws & Moonshine have cooked up something special with the release of their new single. The band taps into a variety of influences on "Hillbilly Rockstar".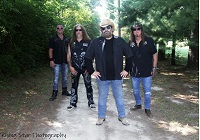 Outlaws & Moonshine consists of Beau Vanvolkenburg (vocals, guitar), Chris Vanvolkeburgh (bass, vocals), and Eric Piper (drums). They initially started playing music together in 2014 and everything has led to this release. Chris had this to say about the track.
"Hillbilly Rockstars" is about that one song that we all have that makes the radio volume go up. Feeling great, jamming out to your favorite band or song.

-Chris Vanvolkenburgh
For anyone that is new to Outlaws & Moonshine's music, a good place to start would be the title cut from their 2017 release Devil In The Moonshine. From there you can check out "Hey Y'all" from their 2015 1919 EP.
You can connect with the band on their Facebook page and view some exclusive behind-the-scenes photos from the studio. Follow along on Instagram, and Twitter pages for additional updates. Keep your eyes peeled for additional announcements in the future. Let us know what you think of "Hillbilly Rockstars" in the comments section below.
Are you enjoying MendoWerks Magazine? Receive updates each week directly in your inbox. Sign up for the newsletter here.
READ MORE: Do these seven acts belong in the Rock & Roll Hall of Fame Class of 2023?
About Author