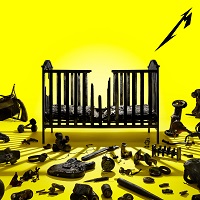 Rock icons Metallica have released a new single along with details on their highly anticipated new studio album. 72 Seasons is the band's 12th studio effort and will be released April 14th, 2023. The 12-track album is Metallica's first album since 2016s Hardwired.
The new single "Lux Æterna" is three minutes and thirty seconds of the band at its best. The song is a short and sweet sonic blast that draws on influences from throughout their four decades in action.
72 Seasons will be available in 2 LP vinyl and limited edition versions as well as CD and digital formats. Pre-orders are available now.
72 seasons. The first 18 years of our lives that form our true or false selves. The concept that we were told 'who we are' by our parents. A possible pigeonholing around what kind of personality we are. I think the most interesting part of this is the continued study of those core beliefs and how it affects our perception of the world today. Much of our adult experience is reenactment or reaction to these childhood experiences. Prisoners of childhood or breaking free of those bondages we carry.

-James Hetfield
Metallica World Tour Announced Too
As if the announcement of a new single and album wasn't enough, the band has released details on their full 2023 and 2024 world tour. They'll be performing for two nights in each city. The 'No Repeat Weekend' will feature two completely different shows and support lineups.
Dubbed Metallica's M72 tour, shows will feature a new stage design that relocated the famed Snake Pit to center stage. Pre-sales begin at 9 am November 30th, two-day passes are available Friday, December 2nd with single-day tickets available on January 20th.
A portion of the proceeds from each ticket will go to the band's All Within My Hands foundation. To date, more than $13 million has been raised in support of education programs, efforts to fight food insecurity, and disaster relief worldwide.
For more information visit the official Metallica website. Follow along on Instagram and Twitter for additional details.
Tracklist: 72 Seasons
72 Seasons
Shadows Follow
Screaming Suicide
Sleepwalk My Life Away
You Must Burn!
Lux Æterna
Crown of Barbed Wire
Chasing Light
If Darkness Had a Son
Too Far Gone?
Room of Mirrors
Inamorata
Are you enjoying MendoWerks Magazine? Receive updates each week directly in your inbox. Sign up for the newsletter here.
About Author