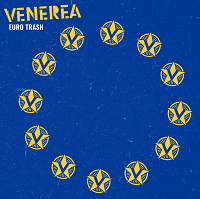 Swedish punk rockers Venerea have unleashed a new album that feels nostalgic yet fresh. Euro Trash features high-octane songs like "Blind Faith", "A Case of Corona" and the summer anthem "Summer of 94". We're hearing influences from bands like Bad Religion, The Offspring, and Green Day. And our only regret is that we're just discovering them now.
Venerea formed out of Malmö, Sweden in 1991 and according to their bio, will be around until the end of time. Frankly, we love the optimistic outlook on their future. Their dual guitar/dual vocal approach results in a full melodic sound that is infectious.
Recorded In Sweden
The band fancies themselves as punk rock storytellers. The material on Euro Trash covers topics from humorous to political. Everything from tales of their musical upbringing and the story of a refugee's father to the biography of an ex-drummer's wife. The album was recorded at Tambourine Studios in Sweden and was produced by Gustav Brunn of Atlas Losing Grip.
Venerea has a series of European dates on the agenda but nothing on the calendar for North America at this point. Here's hoping they come to the states for some shows later this or early next year.
To connect with the band visit their Bandcamp page or throw them a like on Facebook. There are currently two limited editions of the Euro Trash vinyl on sale through the SBAM Records store. There's a blue and yellow version available so do with that information what you will.
Tracklist: Euro Trash
Chanson dArmour
A Case of Corona
Summer of 94
The Nobodies
Blind Faith
My Kind of Stupid
Burning Every Bridge
Sirens Call
Show Must Go Wrong
DNA vs DIY
Some Girls Don't Lik…
Diet Plan B
The Overly Friendly…
My Imaginary Foe
Subterranea
Loose End
Enjoying MendoWerks Magazine? Receive updates each week directly in your inbox. Sign up for the newsletter here.
About Author