The new Gorillaz album Cracker Island officially has a release date. The 10-track collection is loaded with unique collaborations and is sure to defy genre classification. The highly anticipated project will be released on February 24th.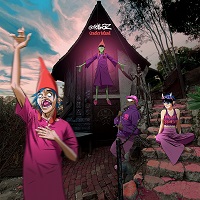 This is the eighth studio album from the popular animated band founded by Damon Albarn and Jamie Hewlett. Expect guest appearances from artists like Stevie Nicks, Adeleye Omotayo Beck, and Bad Bunny. The latest single "New Gold" features Tame Impala and Bootie Brown (The Pharcyde).
The album was recorded in both London and Los Angeles earlier this year. The Gorillaz co-produced with eight-time Grammy Award-winning producer, instrumentalist, and songwriter Greg Kurstin and Remi Kabaka Jr.
New Gorillaz Album Formats
Cracker Island will be available in a variety of different formats and the pre-order is underway via Parlophone. Fans can purchase the album as a digital download and/or CD which includes a booklet and additional artwork.
If you prefer vinyl there are several different versions to choose from including the standard, purple, deluxe, and collectors box sets. You'll also be able to get Cracker Island on cassette which will feature four different character artwork versions. Sorry, no eight tracks available.
Gorillaz On Tour
The Gorillaz World Tour has made stops in South America, Europe, and Australia already this year. The North American leg is set to kick off Sunday, September 11th in Vancouver. They'll perform at Life Is Beautiful Festival and make stops in San Francisco, Chicago, and New York before wrapping things up on October 23rd in Miami.
For additional tour information cruise by The Gorillaz official website or follow along on Instagram and Twitter.
Tracklist: Cracker Island
Cracker Island ft. Thundercat
Oil ft. Stevie Nicks
The Tired Influencer
Tarantula
Silent Running ft. Adeleye Omotayo
New Gold ft. Tame Impala & Bootie Brown
Baby Queen
Tormenta ft. Bad Bunny
Skinny Ape
Possession Island ft. Beck
Enjoying MendoWerks Magazine? Receive updates each week directly in your inbox. Sign up for the newsletter here.
About Author