Talented singer/songwriter Casey Bishop will release her highly anticipated debut EP this fall. Along with the album announcement she's released a new single called "Don't Talk!". Co-written by Willow Smith the infectious uptempo jam packs a punch.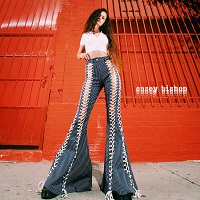 The Casey Bishop EP drops on September 28th and was produced by Chris Greatti (Yungblud, Poppy). The EP's six songs combine alt-pop melodies with soaring rock ambition and punk rock ferocity.
The singer, who was born in Florida, conveys a wide spectrum of emotions through her open-hearted and accessible lyrics. "Don't Talk!" follows the release of the equally strong single "Bad Dream" a few months ago.
American Idol Appearance
You may recognize Bishop from season 19 of ABC's American Idol. Lionel Richie, Luke Bryan, and Katy Perry were all impressed with her vocal range earning her a unanimous yes from the panel. She'd go on to earn a fourth-place finish. An impressive feat considering she was just 16 years old at the time.
Memorable duets with Luke Bryan and Brandon Boyd contributed to her success on the program. She's gone on to open up for the likes of John Fogerty and Foreigner since her strong finish. American Idol is one of America's longest-running and most beloved singing competitions.
"Don't Talk!" is an upbeat pop song with a punk rock sensibility and a soaring chorus. It's clear the now 17-year-old Bishop has a bright future ahead of her. You can stream the song on your favorite digital service provider here or check out the new video below.
For updates on all things Casey Bishop follow along on Instagram and Twitter and Tik Tok.
Tracklist: Casey Bishop EP
Bad dream
Don't Talk!
Kerosene
Blurry Vision
Denied
The Warning
Enjoying MendoWerks Magazine? Receive updates each week directly in your inbox. Sign up for the newsletter here.
About Author