Silversun Pickups have teamed with legendary producer Butch Vig on their sixth studio album Physical Thrills. The album drops on August 19th and features the uptempo lead single "Scared Together'.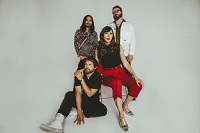 Frontman Brian Aubert wrote the material at a time when his focus wasn't on the band. During the pandemic, his biggest priority was taking care of his son while his wife worked. He shares his thoughts on the project.
"This record is alive. It sits somewhere in between a collection of songs and an imaginary friend. A friend that from March of 2020 to April of 2021 would not only introduce itself to me but keep me company through that time of intense isolation. A friend that would remind me that in this instance, the whole world was feeling the same way as well."

Brian Aubert
Why Physical Thrills Is Different
Much of the material is unlike songs Aubert has written in the past. He'd sneak off and lean on the creative process to "keep himself calm and keep himself company." The results spawned gentle vocals, horror-inspired sounds, and other elements we've yet to hear from the band.
When he did get around to playing the material for the rest of the group, they bought in wholeheartedly. And with the new vibe, they were not afraid to try new things on the record. With Butch Vig (Garbage, Nirvana) back in the fold, Aubert first worked with him solo and brought the rest of the band in after they'd already done some work on the new songs.
Drummer Christopher Guanlao channeled Ringo Star and The Beatles documentary Get Back. Where in the past he'd avoided drum fills, he didn't shy away this time around. Bassist Nikki Monninger showcases her vocals more than on previous albums. And keyboardist Joe Lester plays a larger role in the composition of songs on this record.
Pre-Order Physical Thrills
We're excited about the new direction Silversun Pickups is taking. Physical Thrills should be on your radar and is available for pre-order now. Expect a full tour announcement soon, details will be posted on the Silversun Pickups website. For additional updates follow along on Instagram and Twitter.
Tracklist:
Stillness (Way Beyond)
Sticks and Stones
Hereafter (Way After)
Dream at Tempo 050
Scared Together
Alone on a Hill
Hidden Moon
System Error
Empty Nest
Dream at Tempo
We Won't Come Out
Stay Down (Way Down)
Quicksand
Dream at Tempo 150
Are you enjoying MendoWerks Magazine? Receive updates each week directly in your inbox. Sign up for the newsletter here.
About Author