The new single from Deadmau5 appears on the soundtrack of a popular Netflix series. "My Heart Has Teeth" can be found in the new Resident Evil adaptation. The hypnotic new track, featuring Skylar Grey is available everywhere you listen to music.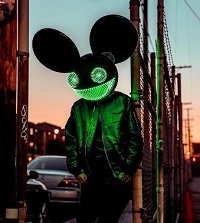 Deadmau5 aka Joel Zimmerman has earned a reputation as one of the world's most respected electronic music producers. The Grammy-nominated artist has released seven critically acclaimed albums and has built a passionate worldwide fanbase.
Grey is a talented singer/songwriter known for her solo work and collaborations with other A-list talents. She co-wrote the Eminem/Rihanna single "Love The Way You Lie" and has worked with Dr. Dre, Nicki Minaj, and many others.
Netflix: Resident Evil
The new Netflix Resident Evil show is based on the Capcom video game series. Starring Lance Reddick as long-time villain Albert Wesker, the show is centered around his two daughters Jade and Billie. The storyline is split between two timelines more than a decade apart, you can watch the trailer for the horror series here.
While it has gotten mixed reviews from fans online, Resident Evil recently replaced Stranger Things as the most popular series on Netflix. The question is, will it stay there for long? All in all, the series consists of eight one-hour episodes. The soundtrack can be streamed on Spotify and is mostly the score by Gregory Reveret.
Deadmau5 On Tour
Deadmau5 recently kicked off the We Are Friends Tour. NERO, Kasablanca, and Lamorn will accompany him on dates through the end of the year. They'll be making stops in cities like San Francisco, Chicago, and Boston with more shows expected to be announced.
Presented by Live Nation, this is the first tour branded as such. We Are Friends has been a music compilation series for the last decade. The purpose is to give exposure to fresh talent from Deadmau5's own mau5trap record label. Expect the 11th edition to arrive in early 2023.
For more information visit the Deadmau5 website. For additional updates follow along on Instagram and Twitter. To stream the show on Netflix, click here.
Are you enjoying MendoWerks Magazine? Receive updates each week directly in your inbox. Sign up for the newsletter here.
About Author