The highly anticipated new album Heroes from The Midnight is due September 9th. Featuring the new single "Heartbeat", the project will complete a trilogy of album releases that began in 2018. Each of the three albums in the series has a theme. Kids is thought of as self-knowledge, Monsters released in 2020 is self-love while Heroes is empathy.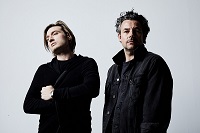 The dynamic duo of Tyler Lyle and Tim McEwan got together in 2012 and released their debut EP two years later called Days of Thunder. For this album cycle and upcoming tour dates, the group has added to their live lineup. Lelia Broussard will hand bass guitar duties, Royce Winttaker is on guitar while Justin Klunk will play saxophone and synth.
Musical Evolution of The Midnight
Considered part of the synthwave genre, The Midnight's evolution continues on Heroes. We're hearing a Killers meets M83 vibe on "Heartbeat". Their earlier material falls more on the dance/electronica side of things.
The new material is anthemic and has mainstream appeal. There's an undeniable 1980s influence on the music and it would feel right at home on a John Hughes movie soundtrack. But there's a modern sensibility to it that makes it feel familiar but fresh. We're excited to hear what's in store on the rest of the album.
There will be plenty of opportunities to catch The Midnight live in concert this fall. They kick off a month-long run of shows in September at Music Midtown in Atlanta. They'll wrap things up at Austin City Limits (weekend two) in October.
For more information and access to tickets for upcoming concerts, visit The Midnight's website. For additional updates follow along on Instagram and Twitter.
Tracklist: Heroes
Golden Gate
Brooklyn. Friday. Love.
Heartbeat
A Place of Her Own
Heroes
Heart Worth Breaking
Loved by You
Aerostar
Change Your Heart or Die
Avalanche
Souvenir
Photograph
Energy Never Dies, It Just Transforms
MendoWerks would love to hear from you! Submit your music now for a review.
About Author