Hulu's 'Crush' is part of a growing batch of films and television series that focus on young queer people finding love.
Following Netflix's 'Heartstopper' series, which is one of the most charming love stories in recent years of any orientation, this heartfelt and comic debut feature from director Sammi Cohen follows a young artist named Paige (Rowan Blanchard) who would do anything to get close to the girl she has a crush on at school.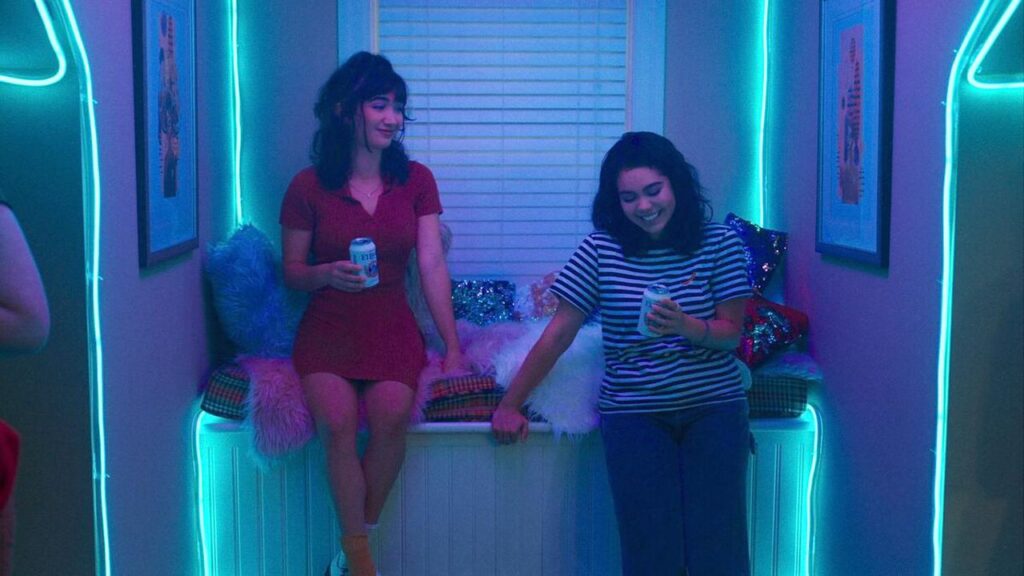 For Paige, being gay has just been a fact of life. She's been out at school for years and has an overly supportive mother (Megan Mullally) who tries to show her how much of a cool mom she is by gifting her vibrators and dental dams.
The target of her affection is Gabriela (Isabella Ferreira), the co-captain of the school's track team. When it is suggested that Paige join the team, she instantly agrees despite having a distinct lack of athleticism. It's simply a chance to spend time being near Gabriela and to get to know her better. Gabriela's twin sister AJ (Auliʻi Cravalho) is the other co-captain of the team and, it turns out, also has a thing for Paige.
This potential love triangle has the potential to break hearts and cause hurt feelings. Paige has to navigate these waters carefully and with the help of her friends Dillon (Tyler Alvarez) and Stacey (Teala Dunn).
Both Blanchard and Cravalho (the voice and singer behind 'Moana') are former Disney stars. 'Crush' allows them to spread their wings in something a little edgier, but still incredibly sweet.
Mullally has limited screen time, but becomes quite a scene-stealer every time she is on screen. 'The Daily Show' alumni Aasif Mandvi and stand-up comedian Michelle Buteau also bring the laughs as the track coach and school principal, respectively.
Natasha Lyonne and Maya Rudolph have producer credits here and it's refreshing to see them help to bring a sharp young queer romance where the characters are out and proud to life.
Hulu's 'Crush' is streaming now. RIYL: 'Booksmart,' 'But I'm A Cheerleader,' and 'Heartstopper.'
About Author