'George Carlin's American Dream' is a new HBO docuseries from directors Judd Apatow and Michael Bonfiglio that chronicles the life and career of one of the greatest comedians of all time.
Split into two parts and totalling nearly 4 hours, it pays loving tribute to a comedy legend. He was a man who evolved from a very safe mainstream comedy career in the early 1960s into a controversial comic with prophetic routines.
It's fascinating that material he performed decades ago regarding abortion rights have gone viral again in 2022. That's how observant and ahead of the curve he was.
Breaking Down the Life of a Comedy Legend
Apatow and Bonfiglio dissect his life more or less in chronological order. Carlin was interested in comedy and becoming a DJ and an actor. He succeeded in all three categories, although comedy brought him the most success.
In addition to footage of his early television appearances, the film makes great use of recorded audio. From radio and magazine interviews and personally recorded cassettes, this helps get us from point A to point B.
Carlin's first wife Brenda is featured in archival interviews, discussing their long relationship. They were together from 1961 until her death in 1997. Despite addiction issues, they stayed together and raised their daughter Kelly (who is interviewed and serves as an executive producer here).
Seven Dirty Words + Acting Career
Part one takes us through to the controversy of his infamous "seven dirty words" routine. That ended up in an obscenity case that went all the way to the Supreme Court.
Part two takes us into the 1980s. Carlin's career was struggling until he released a string of HBO comedy specials. His acting roles then earned him a lot of notoriety, especially with the success of 'Bill & Ted's Excellent Adventure.'
Serious addiction troubles are also part of the second half story. There were multiple heart attacks as well that threatened to cut his life short.
George's brother Patrick, Stephen Colbert, Jon Stewart, Bette Midler, Chris Rock, and Patton Oswalt among many others help flesh out the history in new interviews. Carlin's second wife Sally, who was with him for a decade, also features heavily in part two.
While you'll need to set aside a few hours to finish this, Apatow and Bonfiglio have crafted a genuine love letter to a comedy legend. This is well worth the time it takes to complete. Finally, if you're looking to catch up with his specials afterwards, six of them have been added to the service.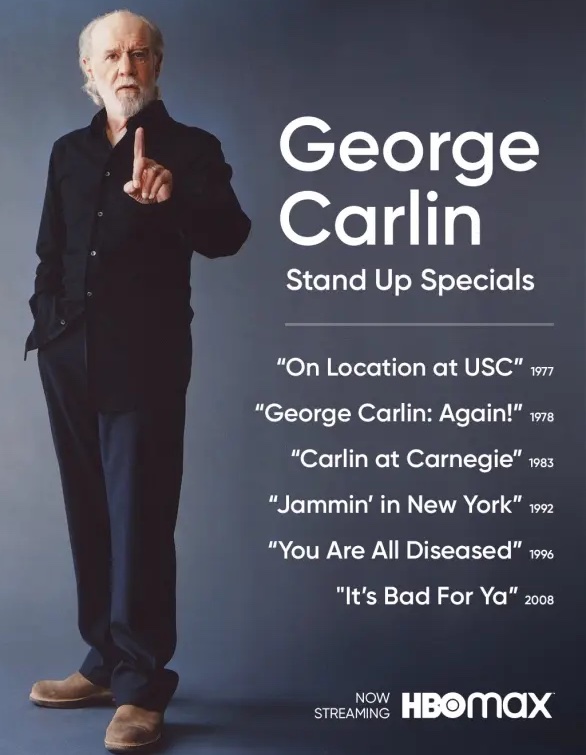 How to Watch 'George Carlin's American Dream'
'George Carlin's American Dream' is streaming now on HBO Max.
About Author