Accomplished blues-rocker Dana Fuchs is set to release her new studio album this spring. Borrowed Time will be out on Ruf Records on April 29th. On this, her eighth studio album, she leans heavily into her southern rock influences. You can expect 12 new songs inspired by experiences that influenced her at a very early age growing up in Florida.
On Borrowed Time, Fuchs' signature voice evokes Janis Joplin's spirit with Mick Jagger's swagger. The album was recorded over eight days in a Michigan studio. Joining bandmates Jack Daley and Jon Diamond were guitarist/engineer Kenny Tudrick, drummer Todd Glass and keyboardist Jordan Champion. The band gelled and tracked everything live, never needing more than a few takes for each song.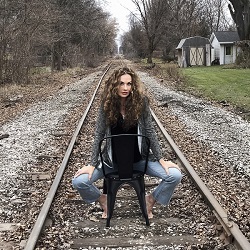 As a result, they captured a rootsy, Rolling Stones-Esque vibe that is sure to please fans new and old. According to a recent press release, Borrowed Time features songs that emphasize support and sisterhood during times of struggle. And is an album for the present, "inspired by the incendiary music of the past".
New Album, New Beginnings
This marks the beginning of Chapter 2, in music as well as in life. I'm going out into the world and writing about the people who share it with me. My own story is always going to be in there, too, but this is the first album where other people's stories are informing my own emotions.

-Dana Fuchs
Not only has she had a long career in releasing her own music, but she's also been featured in the off-Broadway musical Love, Janis. She played the role of Janis Joplin and filled her legendary shoes well. Fuchs also sang the Beatles' "Helter Skelter" and co-starred in the Golden Globe-nominated Across the Universe. Her show-stopping voice was featured in both roles and will be on full display on Borrowed Time.
While we're waiting for the new album, you can check out the recent premiere of her new single "Hard Road" via Rock & Blues Muse. Plus we have a recently released video of "Bliss Avenue" from her previous release Songs From the Road.
Stay in touch with Dana and visit her website for more information. You can also follow her journey on Instagram and Twitter.
MendoWerks would love to hear from you! Submit your music now for a review.
About Author