Dynamic alt-rockers WØLFDARLING has returned with an introspective new song. "send the sun my way" is out now. Frontman Sam Urich had this to say when asked about the song. "I was experiencing what it is like to be afflicted by a mental illness. The song is strangely optimistic because regardless of how low I sink, I will always have some flicker of hope."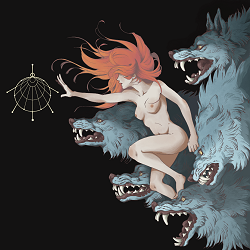 Brothers Sam and Jack Urich play guitar and bass respectively with Jason Hartless contributing his efforts on drums. "send the sun my way" was produced by Chuck Alkazian. He's known for his work with Pop Evil and Tantric at Pearl Sound Studios in Michigan.
A Love Letter To The Sun
Essentially, the song is a love letter to the sun. A mantra, a prayer, for this agony to be scared away by the dawning of the sun. A sun that shines both in the sky and from within us all. A poem to remind us that we are brave, we are mighty, and we are beloved."

Sam Urich – WØLFDARLING
We had a chance to catch up with WØLFDARLING frontman Sam Urich for an interview last fall. He gave us some insight as to where the band name came from. He talked about what it's like being in a band with his brother. And last but not least, a peek behind the curtain at his songwriting process. Click here for the full interview.
For more information and updates directly from the band, follow along on Facebook and Instagram.
About Author