We weren't expecting it but we're ready to give it a shot. Incubus frontman Brandon Boyd is set to appear on the Monday night edition of American Idol as part of the duet round. He posted a picture to his Instagram account on Sunday with the legendary Lionel Richie letting the fans know how excited he is to make the appearance.
Boyd will sing with contestants Casey Bishop and Chayce Beckham as the judges look on. The show has been airing on ABC since 2018 after originally airing on Fox from 2002-2016. Stars like Kelly Clarkson, Carrie Underwood, and Jennifer Hudson got their start on the popular singing competition.
Judges this season include Richie along with Katy Perry and Luke Bryan but who could forget the originals? Simon Cowell, Randy Jackson and Paula Abdul paved the way but we've also seen well know singers like Steven Tyler, Jennifer Lopez and Mariah Carey in the judges chairs.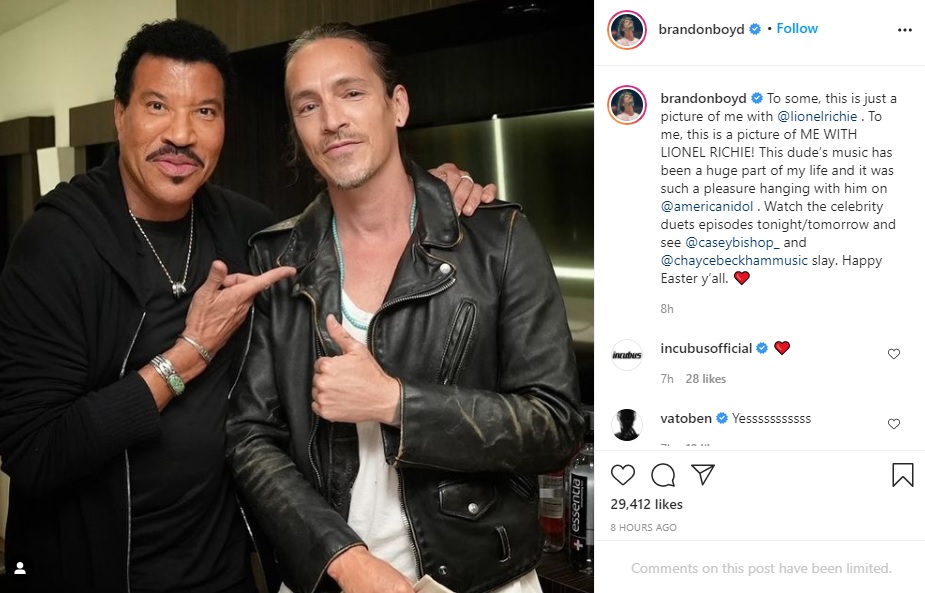 Incubus launched their career in the early '90s and are known for alt-rock staples like 'Drive', 'Pardon Me' and 'Wish You Were Here'. When it comes to artists you'd expect to appear on the show, Boyd doesn't exactly come to mind but that's what makes it fun.
We last heard from Incubus in the summer of 2019 when they released the Trust Fall (Side B) EP featuring 'In The Summer'. The track was released around the time of the 20th-anniversary tour celebrating their breakthrough Make Yourself album.
Tune in Monday night at 8 PM to see what Brandon Boyd brings to the table on American Idol on ABC to see what in the duet round. Will you be watching?
About Author