Fresh off the release of their new Dexter-inspired single 'Red Handed', Junket is breaking new ground. We had a chance to catch up with frontman Chris Wicher and got to the bottom of a few things. We were looking to see how the band has been holding up during the pandemic, got a deeper look at the story behind the song, and some advice for new bands just starting out.
Wicher is joined by accomplished guitarist Mike Miller. The rock-solid rhythm section comprised of bassist Kyle Hallenbeck and drummer Chad Babcock. 'Red Handed' is the band's first new music in nearly a decade and it's been worth the wait. For updates follow Junket on Facebook, Twitter, and Instagram and be sure to stream 'Red Handed' on your favorite digital audio platform.
Junket Interview
Has the pandemic brought the band closer together?
Geographically, no. But. I think it's given us more free time to be creative and then with modern technology, we've been able to share our ideas more frequently. We're already a pretty close-knit group with the majority of us have been together for over 20 years. Getting to write, rehearse and record new music together will organically bring a creative group even closer. In some ways, it's been a blessing for us to find this silver lining and stoke the creative fire it ultimately lit in us.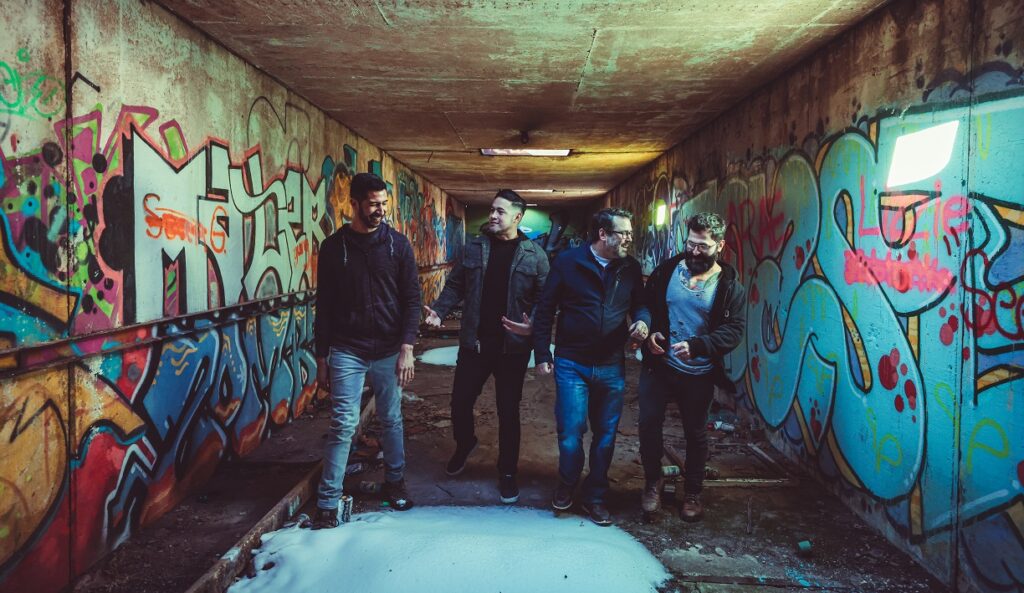 Where did you find inspiration for 'Red Handed'?
Musically, it was a fun tune we created at band practice and then nurtured it into a fun, driving song with tons of energy. Lyrically, it was an amalgamation of wanting to write a fun love song but with a darker tone. After seeing a blog on Dexter I was reminded of the episode where Dexter is caught by his sister in the middle of one of his "kills". The lyrics blossomed from there and became this first-person ode to his sister to keep the pact they agreed upon, to never tell anyone and live their lives as if it never happened. I liked the idea of having a fun, happy song that has such dark undertones. I also feel like it's not too on the nose where listeners can come up with their own meaning for the song.
Favorite touring act you've played with?
Personally, I loved performing with Karnivool at The Chance Theater. They're an insanely talented group from Australia and we were all huge fans. We were lucky enough to open up for them during their 'Sound Awake' tour. The guys were super friendly and the vibe that night was truly inspiring.
Favorite music festival you've played?
Our favorite by far is the 'Mazzstock' festival located in upstate New York. They just get bigger and better every year. Featuring 2 big stages with plenty of support for local businesses. Food trucks, vendors and more make it a genuinely worthwhile experience. It's certainly a weekend we look forward to every year – not only to perform but to attend as well.
If you could see any band alive/dead who would it be?
I wish I could see the Beatles as a complete unit. I've seen Paul McCartney a couple of times now and it's been the best experience both times. I'd love to see the Fab Four in their prime. I've always wanted to see Rage Against the Machine and had tickets to see them at Boston Calling in 2020. Obviously, that got canceled so I'm really hoping to see them before they decide to call it quits again.
What's one bit of advice you'd give a band just starting out?
I'd say just keep having fun. That's probably why you joined a band in the first place. Don't ever take it too seriously where it stops being a creative outlet for you. I've seen it happen way too often over the years. Also, make sure you get along with your bandmates. I've been lucky enough to have the same band members for years and it's always been fun writing, recording, performing, and experiencing this whole ride together.
About Author