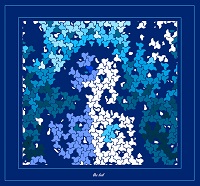 Welsh alt-rock icons, The Joy Formidable are back in the spotlight with their latest single, "The Hat." Following closely on the heels of their previous release, "Cut Your Face," this latest track is now available for streaming on all major platforms.
Ritzy Bryan leads the band with her captivating vocals and masterful guitar work. Rhydian Dafydd provides the pulsating bass lines and adds his vocal prowess to the mix. Drummer Matt Thomas keeps the rhythm tight and explosive. Originally hailing from North Wales, the band now divides their time between their homeland and the vast expanses of Utah.
Throughout their career, The Joy Formidable has nurtured their connection with their devoted fanbase. In 2019, they launched the TJF Music Club, a platform that offered fans exclusive access to backstage content, online performances, and a treasure trove of exclusive songs and merchandise.
More New Music Ahead
"The Hat" emerges as the latest in a series of singles slated for release this fall. The release follows the success of their 2021 album Into The Blue. This new track continues to showcase the band's versatility, pushing the boundaries of their sound while retaining their signature style. With Ritzy Bryan's mesmerizing vocals and the band's knack for crafting immersive sonic landscapes, "The Hat" is bound to resonate with both long-time fans and newcomers alike.
Since its inception in 2007, The Joy Formidable has been on an upward trajectory. Their full-length debut The Big Roar arrived in 2011, blending '90s alt-rock power with indie pop sensibilities. Drawing inspiration from revered bands like Yeah Yeah Yeahs, My Bloody Valentine, and Arcade Fire, they set themselves apart with their unique sound. Since then they've released a series of albums that push musical boundaries while staying true to their indie rock roots.
Live In Concert
In addition to their prowess in the studio, The Joy Formidable is also known for their exhilarating live performances. They've taken their electrifying shows across the globe, leaving audiences in awe.
Looking ahead, The Joy Formidable has announced an exciting UK tour starting on September 20 in Glasgow, promising a spellbinding live experience for their fans. Furthermore, they have plans to make a triumphant return to North America in 2024.
Connect with The Joy Formidable:
Website | YouTube | Facebook | Instagram
Are you enjoying MendoWerks Magazine? Receive updates each week directly in your inbox. Sign up for the newsletter here.
About Author