Minneapolis-based quintet Sleep Signals has announced the commencement of their new tour and the release of a new single. The Sinking Ships Tour: Part II kicked off April 6th and will run through May 14th in Draper, Utah. This tour is in support of their latest single, "Fearless," which is available now everywhere you listen to music.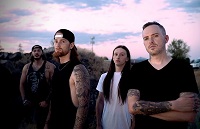 Sleep Signals has expressed excitement about the new material. They wrote the track about their experience returning to music after tragedy struck in 2021. "Fearless is a song we wrote about coming back from our bus wreck and all the challenges we've dealt with since, pulling off the proverbial bandages and getting back to what we love to do!"
Coming Back After Tragedy
During a tour with POD and From Ashes To New, the band's bus was hit by a semi-truck. As a result several band members suffered severe injuries and their equipment was destroyed. Despite these setbacks, the band has remained steadfast in their dedication to their craft and bringing their unique perspective to the rock/metal genre.
Sleep Signals has a unique songwriting style that blends pop and hardcore influences to create a soundscape filled with raw emotion. The band's ability to create strong hooks and high-energy performances has helped them build a significant grassroots following.
Getting To Know Sleep Signals
Sleep Signals was formed in 2014 and has undergone several lineup changes. Guitarist and primary songwriter, Robert Cosgrove, has remained the band's leader throughout its evolution. Following their 2015 full-length debut, Open Your Eyes, the band released the streamlined five-song EP Transitions in 2016.
From there they continued to tour heavily throughout the U.S., supporting bands like Screaming for Silence and Lydia Can't Breathe. In 2017, they released their second EP, At the End of the World, produced by Justin Rimer (Saving Abel, 12 Stones). They spent much of 2018 supporting the release with a lengthy U.S. tour with Atreyu, Ice Nine Kills, and Memphis May Fire.
Sleep Signals returned to the stage in late 2022 after an extended hiatus and immediately sold out shows across the Pacific Northwest. The band is now back in full force, touring nationally in 2023, promoting their latest single, "Fearless." Tickets and VIP packages for the tour are available on their website.
Connect with Sleep Signals:
Website | Facebook | Instagram | Twitter
Are you enjoying MendoWerks Magazine? Receive updates each week directly in your inbox. Sign up for the newsletter here.
About Author