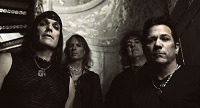 Florida rockers Kings County have been hard at work over the last year writing and recording new music. We're seeing the fruits of that labor with the release of the new single and video, "Holding On." This intense track features powerful vocals, memorable guitar riffs, and melodic hooks to tie it all together.
Kings County is Rob Dexter (Vocals, Bass), Steve Bell (Guitars, Vocals), Joe Lopez (Drums), and Bill Kania (Guitars, Vocals).

Dexter says, "Holding On" was the song we needed to write. After our last release in 2022, we were constantly performing live for months and knew we had to get back to writing or we would become complacent. You are as good as your last song and it was a pivotal moment for us. We needed to raise the bar and that's exactly what we did".
Meaning Behind "Holding On"
"Holding On" touches on every past bad relationship that burned a lasting impression in Dexter's mind and how he eventually learned to deal with it. He realized he could stay and be tortured or take a stand and end the nightmare.

"Every strong song needs a strong video", says Dexter. "Nowadays people listen with their eyes and we weren't about to not deliver a visually amazing experience for our fans. We wanted to go outside the box and recruit a director who we've never worked with before and that's when we came upon Jon Vulpine. Jon has worked Three Days Grace, Seether, and Skillet."
Music Video Details
The video for, "Holding On" was filmed at an old, abandoned bank built in 1902 in the heart of downtown Jacksonville, Florida. A generator was brought in to power production since there was no electricity in the building. Gaping holes in the floors and broken glass falling from the weathered ceiling add to the intensity of the video.
"Holding On" was produced by Super Producer and Engineer Chuck Alkazian (Pop Evil, Soundgarden, Tantric) at Pearl Sound Studios (Asking Alexandria, Eminem, Filter) in Canton, MI.
Keep your eyes and ears peeled for more show announcements from Kings County soon.
Connect with Kings County:
Website | Facebook | Instagram | Twitter
Are you enjoying MendoWerks Magazine? Receive updates each week directly in your inbox. Sign up for the newsletter here.
About Author