Michigan's beloved hard rock band, Taproot, returns with their first new studio album in more than a decade. The release of their seventh studio album SC\SSRS is set for September 29th. The new material is their first since 2012's The Episodes.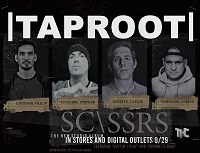 SC\SSRS was recorded and produced by Taproot's guitarist and vocalist, Stephen Richards. Recorded at The Loft in Saline, Michigan, Richards had written most of the songs years ago as material for a new Taproot album. The project was postponed due to some health and other issues. However, after his mother's passing, Richards decided to record and share these songs as a solo release, before coming full circle back to Taproot.
Bassist Phil Lipscomb encouraged Richards to release the songs as a Taproot album, and the band decided to pay respect to the material that deserved to be a Taproot record. The album will be available for pre-order from taprootmerch.com on March 15th, with a VIP upgrade available for purchase.
Taproot's Lineup Evolution
Taproot also welcomes new guitarist Taylor Roberts and the return of original drummer Jarrod Montague. He'll be joining the band for select upcoming shows, including their "reunion" appearance at Blue Ridge Rock Fest in September. That and the SC\SSRS album release party, which will mark the band's first club show in six years.
Taproot also recently announced the release of Best of Besides a 17-track collection of remastered demos and rarities, mastered by Richard Easterling (Tantric, Zen From Mars), in stores and digital platforms on May 5th.
Taproot formed in 1997 in Ann Arbor, Michigan, and went on to sign with Atlantic Records. They released their debut album GIFT in 2000. They supported the release with extensive time on the road including appearances on Ozzfest, and tours with Incubus, Mudvayne, Disturbed, and Linkin Park. Taproot's sophomore release, Welcome was produced by Toby Wright It went on to sell over 500,000 copies and spawned the hit rock singles "Poem" and "Mine".
Taproot went on to release several more full-length studio albums. They toured consistently through 2013 before going on an indefinite hiatus. They played only a sporadic handful of local Michigan shows before reforming officially this year.
Taproot's return to the scene has fans eager to hear the new material from SC\SSRS. For more information visit their official website or follow along on Facebook and Instagram.
Are you enjoying MendoWerks Magazine? Receive updates each week directly in your inbox. Sign up for the newsletter here.
About Author