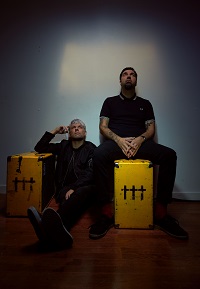 The duo of Deftones Chino Moreno and producer/multi-instrumentalist Shaun Lopez are better known as ††† (Crosses). Their EP Permanent.Radiant has arrived and it's six new electronic dark wave-influenced alt-rock songs we think you might be interested in.
†††, pronounced Crosses, have been making music together since 2011. They're known for Chino's iconic emotive vocals and Lopez's world-class production. They've released two EPs, † and ††, and a self-titled album in 2014. In 2020 they resurfaced with a cover of "The Beginning of the End" by Cause and Effect.
Split With Doom
In a recent interview with Consequence, the duo spoke about their split with founding member Chuck Doom around the time of the release of "End". It turns out their lack of production as a band for several years was due to his lack of presence.
The group is known for its unique visual style to go along with its musical vibe. They often incorporate religious imagery associated with the occult. Moreno has attributed this to his interest in the supernatural and the afterlife. Check out the new video for "Holier" below and let us know your thoughts in the comments section.
Connect with ††† (Crosses) on their official website for more information. Follow along on Instagram & Twitter for additional updates.
Tracklist: Permanent.Radiant
Sensation
Vivien
Cadavre Exquis
Day One
Holier
Procession
Are you enjoying MendoWerks Magazine? Receive updates each week directly in your inbox. Sign up for the newsletter here.
About Author