Hard rockers Crown The Empire are following up one of their most successful tours to date with the release of "Immortalize". The high-octane new track delivers anthemic melodies and blistering guitar riffs that longtime fans will recognize as representative of their signature sound.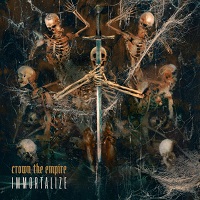 The summer of '22 saw the band headline their own 'Fallout 10-Year Anniversary Tour'. From there they performed with Slipknot and Ice Nine Kills on the fall leg of Knotfest Roadshow.
On "Immortalize" Crown The Empire worked with Zach Jones as producer and engineer. Jones is known for his work with acts like Fever 333, Scene Queen, and Nova Twins. As far as the meaning behind the new song, vocalist Andy Leo had this to say.
"Immortalize" is about the fear of being forgotten once we pass on. It questions mortality, the existence of a higher being, and struggles to find meaning in the inevitable. Time is the only currency that can't be replaced and there's no way of ensuring we'll leave a legacy worth remembering. All we can do is try and make our marks before we're gone forever.

Andy Leo
Crown The Empire is Leo (vocals), Brandon Hoover (guitar), Hayden Tree (bass/vocals), and Jeeves Avalos (drums). They've released four studio albums to date starting with 2012s The Fallout. They've garnered an impressive 675 million streams worldwide.
Keep your eyes peeled for updates coming in 2023. For more information visit the Crown The Empire website. For additional info follow along on Instagram and Twitter.
Are you enjoying MendoWerks Magazine? Receive updates each week directly in your inbox. Sign up for the newsletter here.
About Author