Things are starting to heat up for Philadelphia-based rock band Soraia ahead of the release of their new album. Their latest single "I Seek Fire" is having success on rock radio stations across the country. Bloom is set for release on October 28th on Stevie Van Zandt's Wicked Cool Records.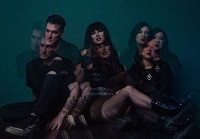 Soraia is coming off a run of dates sharing the stage with iconic rocker Joan Jett. They have concerts planned in New York City, Indy, and Providence with a big hometown show in early December.
When it comes to the new material on Bloom, frontwoman Zou Zou Mansour had this to say.
Ultimately, our new album is about rising above all of the slights, injuries, and traumas we've all experienced – personally and together – and positioning ourselves into a new place we've chosen. A place with renewed courage and vitality. We realize we are all deserving of a life driven by our choices and power.

ZouZou Mansour
Getting To Know Soraia
At their core, Soraia is a trio consisting of Mansour (vocals), Travis Smith (bass), and Brianna Sig (drums). On "I Seek Fire" Mike Dudolevitch adds guitar and piano parts while Steve LaFashia contributes rhythm and lead guitar.
The music video debuted in late August and was directed by Sam Shapson. He's known for his work with artists like Yeah Yeah Yeahs, Oliver Tree Thrice, and All Time Low.
For more information visit the band's website or follow along on Instagram and Twitter. Let us know what you think of "I Seek Fire" in the comments section below.
Tracklist: Bloom
Jokers, Thieves, and Liars
Tight-Lipped
I Seek Fire
Broken Cocoon
She's Already Dead
Hammer and the Anvil
Secret Medicine
Strutter
Jackson's Song
Mephistopheles
Are you enjoying MendoWerks Magazine? Receive updates each week directly in your inbox. Sign up for the newsletter here.
About Author