Nashville's Briston Maroney has served up a double helping of music that is new to fans but that he wrote nearly five years ago. It certainly appears as if both "Oregon" and "Harvard" have aged like a fine wine and are worth checking out on your preferred streaming platform.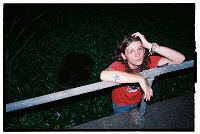 Now performing in front of large crowds at places like Bonnaroo and the Firefly Music Festival, Maroney has paid his dues. Earlier in his career, he made a name for himself in the Nashville music scene performing DIY house parties. This gave him the opportunity to build connections directly with his fans at these intimate shows.
"Oregon" and "Harvard" were produced by Caleb Wright and Jake Luppen of Hippo Campus.
Thoughts On "Oregon"
This is honestly an old song that I never thought would see the light of day, but I'm so stoked that it is in its fullest form! It was always in the back of my mind to record, and I'm so glad I waited to find someone like Jake Luppen to produce it. It's overly earnest – the way that anything that's written at 20 years old is – but having some perspective on the story and the general attitude of the song helped get it to a place that feels really special! 'Oregon,' more than anything, is about being young, and I love that it feels fresh and the opposite of jaded (haha).
Thoughts on "Harvard"
This song was a totally new experience to write and record! I like to think of 'Harvard' as a letter to the feminine side of my identity, something I totally didn't realize I was doing at the time that I wrote it. This is also an older track, one that I wrote on tour that literally came out without explanation in, like, 20 minutes before a show in Texas! We were sitting on Willie Nelson's old tour bus, which was being used as the green room for the show we were playing. Sometimes, these lightning bolt songs don't have an apparent meaning until far after they are written, and this song is no exception to that theory!

-Briston Maroney
Paradise Fest
Maroney is set to launch the inaugural Paradise Fest this November 3rd and 4th. Taking place at Brooklyn Bowl Nashville, he'll headline both evenings. Indigo DeSouza, The Greeting Committee, Sunflower Bean, and others will open up the shows.
The unique setting of Brooklyn Bown Nashville allows fans to not only see the concert but get some bowling and a nice meal in as well. In fact, certain VIP packages that are available included the opportunity to share a lane with Maroney himself.
For additional updates visit the website or follow along on Instagram or Twitter. Let us know what you think of the new material in the comments section below.
Are you enjoying MendoWerks Magazine? Receive updates each week directly in your inbox. Sign up for the newsletter here.
About Author