Buzzworthy instrumental band Polyphia has announced a release date for their new album along with a collaboration with Sophia Black. Remember That You Will Die is their fourth studio album and is due out on Rise Records on October 28th.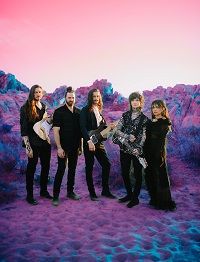 The new album features unique guest appearances from artists like $not, Chino Moreno (Deftones), Steve Vai, and others. Polyphia is made up of guitarists Tim Henson & Scott LePage, bassist Clay Gober and drummer Clay Aeschliman.
Remember That You Will Die was produced by Henson & LePage with additional producers on select songs. Guests include Rodney Jerkins (Michael Jackson, Destiny's Child) and JUDGE (Migos & Marshmello) along with their longtime Y2K (Doja Cat, Tove Lo) and Johan Lenox (Kanye, FINNEAS).
Who Is Polyphia?
Polyphia formed out of Plano, Texas in 2010. By fusing complex guitar riffs with hip-hop rhythms, bass-heavy trap music, and progressive metal & rock elements, Polyphia has made a name for itself with fans worldwide. The group has so far put out three studio albums. Muse was released in 2014, Renaissance dropped in 2016 and New Levels New Devils was released in 2018.
Although they are an instrumental band at their core, on Polyphia's latest single "ABC" Sophia Black adds vocals. She's a tri-lingual vocalist and offers up her modern pop and R&B-influenced vocal stylings in both English and Japanese on the track (she speaks French too).
The band is just wrapping up their sold-out North American Tour. You can link up at their website for more information or follow along on Instagram and Twitter.
Tracklist: Remember That You Will Die
Genesis feat. Brasstracks
Playing God
The Audacity feat. Anomalie
Reverie
ABC feat. Sophia Black
Memento Mori feat. Killstation
Fuck Around and Find Out feat. $not
All Falls Apart
Neurotica
Chimera feat. Lil West
Bloodbath feat. Chino Moreno
Ego Death feat. Steve Vai
Enjoying MendoWerks Magazine? Receive updates each week directly in your inbox. Sign up for the newsletter here.
About Author