Judah & the Lion have returned with their first new music of 2022. It was announced last fall that the band would be heading back into the studio to work on a follow-up to the critically acclaimed Pep Talks released in 2019.
Last fall they celebrated 10 years as a band with the release of "Find Another Reason Why". Now the multi-platinum Nashville-based group returns with "Take a Walk". The accompanying music video was filmed in the Music City by longtime collaborator Matt Delisi who has helmed all of their previous videos. Longtime touring bassist Dylan Oglesby built out the set and designed custom clothes for the shoot.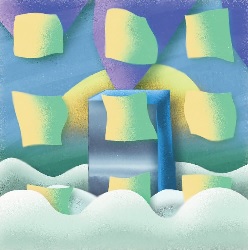 Judah & the Lion have hit a home run with "Take a Walk". It's the kind of song you might not latch on to after the first listen. But give it a chance and it's one of those tunes that grow with you. And be the fifth or sixth listen you just might be singing along at semi-unreasonable volume levels.
Reclaiming Joy Through Music
It feels like the right time for us to reclaim some of the joy that can be hard to come by these days. We don't want to be positive just for the sake of being positive, we've seen our fair share of pain, and we hope that comes across in our music and lyrics too. 'Take a walk' represents both sides: pure fun and excitement alongside the reality of life being really hard.

– Judah & the Lion
On the heels of the release of the new single, the band has announced they've been added to the Bonnaroo Music Festival. They'll be performing alongside artists like Tool, Chvrches, All Time Low and dozens of others.
With the announcement of the new single last fall, they also announced a lineup change with founding member Nate Zuercher announcing he was leaving the band to spend more time with his family. As Judah & the Lion forges onward we'll keep you posted when the band announces tour dates or more information.
For additional updates directly from the band, visit their website or follow along on Instagram and Twitter.
About Author