For most of us, it's hard to imagine the pain that would come from the loss of a child. I don't know how many people ever would also stop to think about the pain for those whose children take the lives of other kids.
That's at the heart of the directorial debut feature film from actor Fran Kranz.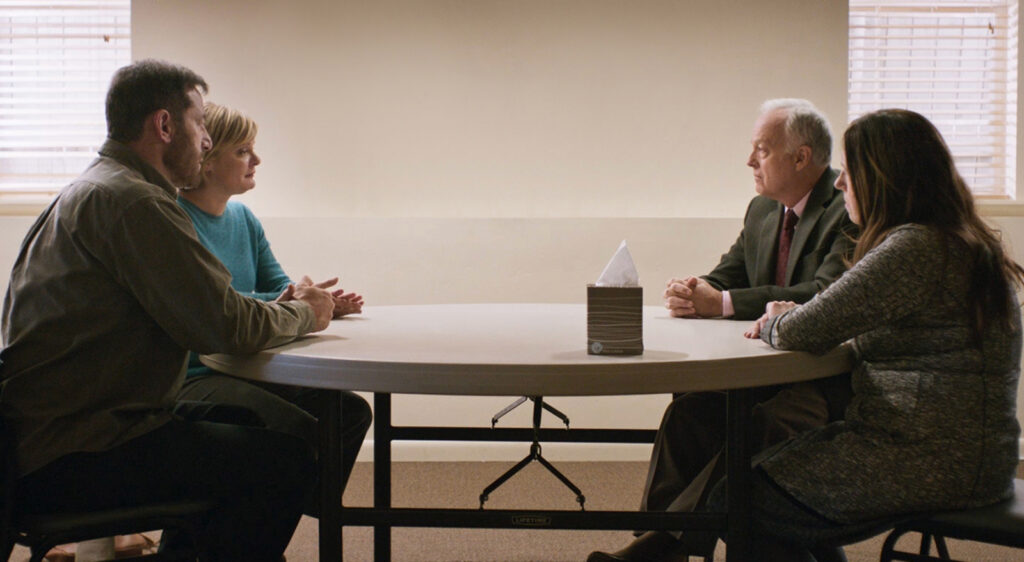 In 'Mass,' two sets of parents entangled in a lawsuit meet up for a private conversation in a neutral zone. In a utility room at a church where none of them attend, the four adults finally sit down face to face with each other.
Martha Plimpton and Jason Isaacs star as Gail and Jay. They lost their teenage son in a school shooting.
Ann Dowd and Reed Birney star as Richard and Linda. Their son, who was also a student at the same school, pulled the trigger.
As they all sit down together, tensions run high and expectations are mixed. Through the grief, they all slowly accept the way they are forever bonded through an event they all wish could be undone.
Based on the simplicity of the setup, I falsely assumed that this had its roots on the stage. There's no getting around the fact that it feels like a play. It's the kind of theatricality that you're either very on board for or will find boring. This is an actor's showcase through and through, but the subject matter is so emotionally charged that it can be painful to watch.
Through it all, Kranz manages to find small glimmers of hope and peace that resonate long after the end credits roll.
The film premiered at last year's Sundance Film Festival and while it struggled to find an audience in theaters during the pandemic, it has been a film championed by regional critics organizations. I am a voting member of the Austin Film Critics Association where we nominated it for Best Ensemble, Best Original Screenplay, Best First Film, and Best Supporting Actress for Ann Dowd. It also has already been named as the recipient for the prestigious Robert Altman Award at the upcoming Independent Spirit Awards (where it also is up for Best First Screenplay).
'Mass' is now available to buy on DVD and Blu-ray and can also be rented or purchased from all digital providers.
About Author