Dashboard Confessional's Chris Carrabba suffered life threatening injuries in a motorcycle accident in 2020. The new music video from the band gives fans a peek into his recovery.
"Here's To Moving On" chronicles a show day and starts with Carrabba in bed stretching his still sore shoulder as he gets out of bed. From there he strums the guitar and sings as he looks over get well cards as he sits on the couch. He proceeds to walk into the garage and examine the clothes and helmet he was wearing at the time of the accident.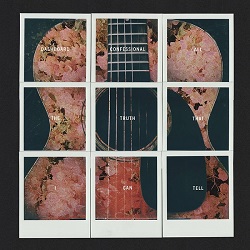 The track is quintessential Dashboard, Carrabba at his best. All The Truth That I Can Tell is set for release on February 25th and is available for pre-order now. You can choose your preferred music service here.
Dashboard Confessional initially started in 1999 as a side project for Chris Carrabba when he was a member of the band Further Seems Forever. His debut album came a year later, The Swiss Army Romance featured the breakout song "Screaming Infidelities". Which ultimately gained a lot of attention after performing at MTV Unplugged which was the first time many of these songs were performed live by a full band.
The band went on to have a string of successful albums and tours over the next few decades and is now getting ready to release more new music. For updates be sure to follow Dashboard Confessional on Twitter and Instagram.
Lyrics: Here's To Moving On
I feel like I find something new
To remind me of you all the time
A picture a hairband a song
Or this cork from this bottle of wine
The click of the thermostat kicking off
Just when it's getting too warm
The drop in the pressure the
Smell in the air, when it's starting to storm
And I hate
To admit
That it's true
But I like
That it hurts
When I do
Here's to fighting less
Here's to living more
Here's to feeling alive again
Here's to picking yourself off the floor
Here's to waking up
Here's to sleeping well for once
Here's to knowing the things
That you wish you could change
Here's to saying you're fine when you're not
Here's to being right
Here's to being wrong
Here's to letting go
Here's to moving on
I stand in one place and just listen
And let myself feel how it sounds
A little bit hollow, a little bit hopeful
A little bit down
This house isn't empty, exactly,
It's settling down for the night
It's creaking and cracking
And it seems familiar
But doesn't feel right
All that time
That it takes
To let go
How could I
Be the last
One to know
Here's to fighting less
Here's to living more
Here's to feeling alive again
Here's to picking yourself off the floor
Here's to waking up
Here's to sleeping well for once
Here's to knowing the things
That you wish you could change
Here's to saying you're fine when you're not
Here's to being right
Here's to being wrong
Here's to letting go
Here's to moving on
I'm getting up slowly
I'm still a bit spent
I'm still a bit tired
I feel a bit better this morning
Than I've felt in quite a long time
It's funny I thought for a bit there
I'd never be able to deal
But I make some coffee
And I take a shower
And I start to heal
-And I hate
To admit
That I can
But I like
How it feels
That I am
So here's to fighting less
Here's to living more
Here's to feeling alive again
Here's to picking yourself off the floor
Here's to waking up
Here's to sleeping well for once
Here's to knowing the things
That you wish you could change
Here's to saying you're fine when you're not
Here's to being right
Here's to being wrong
Here's to letting go
Here's to moving on
About Author