LA-based indie artist Elodie Rêverie has just released a fresh new remix with highly regarded producer/DJ Kony. "Red Carpet" was originally released as a single last year and the remix breathes new life into the song.
We recently had the chance to catch up with Elodie, here's what she had to say about identifying as a lyricist, the process behind filming a music video, and whether or not we can expect more new music soon.
For updates, be sure to follow Elodie on Twitter and Instagram. Hear the new remix of "Red Carpet" by Kony on Spotify below.
The original version of "Red Carpet" dropped last year, tell us how the Kony remix came about?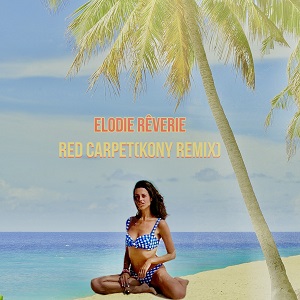 In February I partnered with SKIO music for a remix contest of my single Red Carpet! It was their idea to choose Red Carpet instead of my other single Under the Radar. Over 400 producers from around the world submitted their original remixes for the song! (You can find those here: https://skiomusic.com/contest/elodie-reverie)
The Kony Remix was the official third selection created by a young and very talented producer professionally known as Kony from Romania! When the song was mixed and mastered for free via connections I made on Clubhouse, I knew I wanted to release it! The mix was by Leo Pisaq and the master was by Morgan Rooms(who mastered the soundtrack of the Saw horror movies!)
Your style continues to evolve, how would you describe your music to someone who's never heard your songs?
After all these years, I identify as a lyricist above all. Lyrics are the most important to me! I was fortunate to be recognized in the 2020 California Music Video Awards for best lyrics and verse for my single Under the Radar.
Earlier this year you released a music video for the original version for "Red Carpet", can you give us some insight into the meaning behind the video?
The Red Carpet music video was directed by the very talented Jace Wallace! Conceptually, I wanted to shoot a video with two central characters; by the end I wanted the viewer to be unsure if the song is from the perspective of a waitress who dreams of being a big star, or a big star playing a waitress in a film; the end result was much more abstract than this, but is visually striking.
What's next for you, can we expect to hear more new music from you soon?
I've continued to write and record music "Under the Radar" and have shifted my focus to sync placements in film and TV! I've found that I am comfortable creating a variety of moods and genres and I am prolific in my writing and composing which is why I'm well suited to this world, so hopefully we'll be hearing me in a show or film soon.
If you could collaborate with one artist living/dead, who would it be and why?
There are so many artists I'd love to collaborate with and I love this question! I recently stumbled upon a song called She Came Down From the Stars by an artist named Nathan Day and I was amazed by his songwriting! I actually reached out and got feedback on my lyrics for an unreleased song and he said he loved them citing that he likes things with a "phonetic flow." I expect that we'll all be hearing more of his work and so I'm going to have to say him!
What's a message you'd like to share with your fans?
I'd like to urge everyone to review their cyber security practices! It's important!
About Author