Sueco is already a gold-certified artist with the Recording Industry Association of America. He's topped 500 million streams globally and boasts millions of followers on social media led by the 5.6 million people on his Tik Tok account. But it feels like he's only just begun to tap into his potential.
Up until now, he's earned respect in the hip-hop genre but "Paralyzed" hits different. The song does begin with a hip-hop cadence but quickly kicks in with an early 2000s hardcore/screamo vibe but with a modern-day sensibility.
Tik Tok #FYP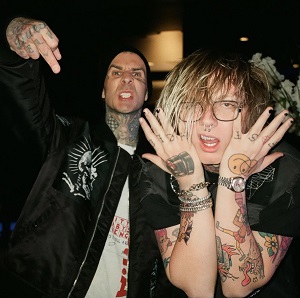 I first stumbled on Sueco late one-night scrolling through Tik Tok. I'd heard songs of his before but didn't necessarily know it was him. He does deserve credit for creatively promoting the release of the new single through a series of attention-grabbing short videos. He let a dispute with his record label play out when they voice concern about releasing an emo track as opposed to something his fans were more used to.
Well, the gamble has paid off. "Paralyzed" has had an impressive debut on the Billboard Hot 100, it landed at #1 on the Rock Digital Song Sales chart and was included on Rolling Stone's Top 25 Breakthrough chart. Not to mention over a million views on YouTube in less than five days.
What's Next???
While "Paralyzed" is just heating up, Sueco is already hard at work on his next project. He aims to fuse electric, alt-pop energy with his innovative sonic approach. We're excited to hear what comes next. In the meantime you check out his new single "Paralyzed" and if you like what you hear check out his collaboration with Travis Barker.
For updates, here are Sueco's links on Tik Tok, Twitter, and Instagram.
About Author